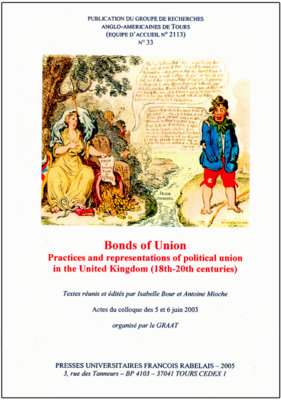 Version papier

---

Prix:

15€

Nombre de pages:

210 pages

ISBN:

978-2-86906-219-1

EAN:

9782869062191
Catégories

---

étiquettes: Civilisation

,

Histoire contemporaine

,

Histoire Moderne

,

Mondes anglo-saxons

,

Fiche ONIX:
Bonds of Union
Practices and representations of political union in the United Kingdom (18th-20th centuries) - GRAAT n°33
The appearance and development of a 'Four Nations' slant on British history over the last two decades has in many ways pointed up 'the Union' as an essential component of the national history or histories of the British Isles. 'Four Nations' historians, however, have tended to focus exclusively on the United Kingdom as the core of either a nascent or a now defunct Empire.
History is variously invoked to account for the emergence of the British dynastic state, explains it (to some) puzzling endurance, and not infrequently to assert or at least suggest its necessary demise in a world of nation states.
By stressing the need for a multi-contextual approach, and casting union strictly as a process - something that is either in the making, or unravelling - 'Four Nations' historians have thus paradoxically obscurded the fact that union has served for several centuries to conceptualise and accommodate diversity in unity, not just in Britain, but in the wider British world.
The essays in this volume, originally presented in June 2003 at a conference hosted by the University of Tours, therefore seek to move beyond the simplistic historiographical and political alternatives of union and dis-union to treat both the Union and union more generally as cultural as well as constitutional and hidtorical constructs, well calculated to articulate separateness and help people make sense both of themselves and of their differences.
Union is here approached from three keys directions - the Churches, the Nation and the Constitution, all central since the seventeenth century to the question of unity and regional/national identities in the British metropole and Empire - and from three complementary angles - historical, legal and literary.
From this perspective, it is hoped that union will be seen to provide a key to a fuller and more balanced, if not uncritical, understanding of a metropolitan and imperial British world of overlapping and sometimes conflicting national self-perceptions.
Papers from the GRAAT Conference
Tours - 5-6 juin 2003
---